Healing Made Safer and Simpler
What are shockwaves?
In human medicine, shockwave therapy has been used for over 30 years to treat a number of urologic and orthopedic conditions. Shockwaves are high frequency sound waves focused into tissue by a special probe to stimulate the cells of the area into a state of high level production of healing compounds.
Thus, a lasting healing response is achieved without any side-effects. This is exciting news for the treatment of major lower leg injuries to horses, which have delayed healing times due to the reduced capacity for circulation of the tendons and bones.
What equipment is used?
We use the VersaTron® shock wave device. Often imitated, it remains unmatched in clinical research, quality, and effectiveness in the treatment of over 20 equine indications.
VersaTron® generates the highest peak pressure (energy) of any system with the largest focal volume, ideal for treating deep orthopedic conditions in horses. The focused energy increases blood supply to the treated area, resulting in tissue regeneration in tendons, joints, and bone.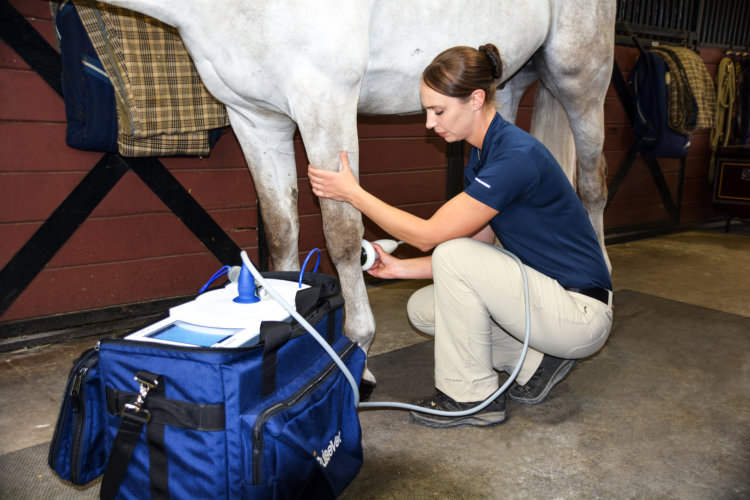 How is shockwave treatment performed?
First, a veterinarian must determine the exact source of the pain. Sedation is required for application of the shockwaves, which takes no more than 20 minutes per site.
Most horses require a series of one to three treatments, each one administered about 2-3 weeks apart.
What injuries will benefit from Shockwave Therapy?
Since shockwave therapy uses the passage of sound waves through tissue, it is believed that any injury clearly identifiable on an ultrasound scan will potentially respond well to shockwave therapy.
Suspensory Ligaments
Sore Backs
Bowed Tendons
Ringbone
Bucked Shins
Splints
Stress Fractures
Navicular Syndrome
Kissing Spine Disease
Joint Diseases
Delayed Unions
What results can be expected?
Horses with a range of injuries have been successfully treated from several equestrian disciplines.
Call to set up either a veterinary exam or digital imaging for diagnosis, and begin using shockwave therapy today!
Excellence in equine health and the performance of sport horses.
Located in Del Mar, California with mobile equine veterinary services available throughout San Diego and Orange Counties.
Monday 10am - 4pm
Tues 10am - 4pm
Wednesday 10am - 4pm
Thursday 10am - 3pm
Friday 10am - 3pm
Saturday 10am - 3pm
Sunday Closed
14584 El Camino Real
Del Mar, CA 92014